Ten Sing – International Festival "Mouv' ton Chœur" 2019
TEN SING :
Dear All OF YOU,
In name of the whole choir Ten Sing Geneva, I transmit to you our most sincere thanks for this beautiful edition of Mouv'ton Choeur Festival.
Thank you to Marie-France and Sylvia and all the group Coup de Choeur for the warm welcome and the very good concert yesterday afternoon.
A big thank you to Catherine for the logistic realization and the perfect collaboration that we have been able to put in place over the weeks. It made things easier and made everything possible in a good mood.
We will keep this beautiful sunny weekend, incredible moments of sharing, musical exchanges, laughter, discoveries, a desire to renew this kind of experience.
We want to keep in touch and be regularly informed of your musical news and perhaps we will have the pleasure of crossing our musical paths, here, there or elsewhere !!!
Congratulations to all participants for the beautiful spirit of openness and warmth that seemed the common denominator of this beautiful event.
Looking forward to staying in touch for new adventures,
Full of Geneva kisses and good week!
Thierry Fe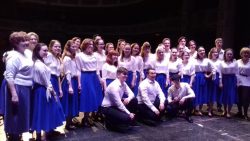 More informations